Roads, Viaducts and Bridges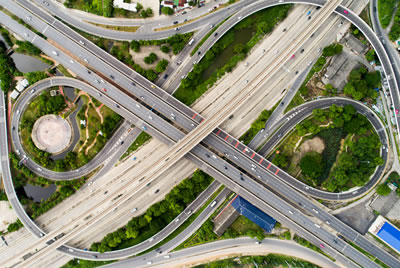 Today, UAVs are rapidly changing data collection & monitoring across multiple vertical infrastructural sectors. ACES AIR can help construction companies involved with road projects (from small to very large) to capture aerial data that can be quickly processed and converted in to useful topographic information, or to generate elevation models and super-detailed 3D models.
Planning, plotting and mapping road construction projects has never been so easy.
While the construction project is ongoing UAVs can be deployed to survey excavations, paving or asphalting, as well as to measure stockpile volumes, allowing project team to easily monitor project progress, identifying issues that might jeopardize its timely completion or be a cause for extra-costs.
When it comes to elevated, hard to reach viaduct or bridge; drones are considered as the new technological frontier for inspection. A traditional bridge inspection would encompass the usage of either aerial platform, under-bridge inspection vehicle, ladders or rope access, and in some cases also the closure of lanes of traffic, with evident disservice for commuters, while associated cost and danger remains a challenge.
ACES AIR offers integrated video and thermal structural inspection services, provided in a less expensive, faster and safer manner when compared to traditional methods.